Post by Liquid Len on Dec 28, 2005 17:49:32 GMT -5
According to Russian anthropologists like Bunak, there's a distinct anthropological type in Eastern Europe, neither Baltic nor Pontic, that corresponds more or less to the average Russian. They called it the "Eastern European type", aka "Central Eastern European type" (CEE). This map shows where its main distribution for a long time had been. (It's focused on the centre of European Russia; Moscow is in the Northwest of the yellow area. The more recently colonized areas in the South, and of course those in Asia have been left aside.) Furthermore, the internal structuring has been drawn in, i.e. regional subcomplexes that deviate in certain aspects from the average CEE.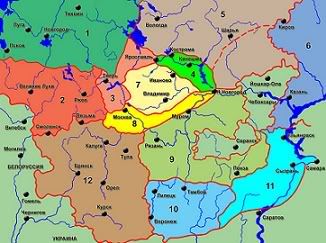 2: Valdai: relatively tall, high CI, light pigmentation, weak growth of beard, broad faces, weak horizontal facial profile.
1: Ilmen-Beloserje: similar to 2, but with lower CI, higher, narrower face, even more depigmented.
3: Western upper Volga: similar to 1, but with stronger growth of beard, fewer uptilted nosebottoms, darker hair.
These three make up a Northwestern subcomplex that approximates the Baltic complex somewhat. The main differences are: The Russians have fewer dark eyes and narrower faces.
The Northeast:
5: Vologda-Vjatka: darker pigmented, larger head and face measurements, possibly due to an Uralic substrate.
7: Kljasma: a mix of Valdai and Don-Sura characters: moderate brachycephaly, medium face breadth, dark pigmentation.
4: Eastern upper Volga: similar to 3, but even darker hair, smaller stature, narrower faces; probably a substrate influence of Volgids (Mari).
6: Vjatka-Kama: partially similar to Ilmen and Novgorod, partially like Vologda-Vjatka.
12: Southwest: compared to the aforementioned ones darker pigmented, stronger growth of beard, lower CI, stronger horizontal facial relief. Obviously some Pontic influence.
The Southeast:
9: Don-Sura: similar to 12, but more fair eyes, lower CI.
11: Middle Volga: similar to 9, but weaker growth of beard (Mari influence?).
10: Steppe: between Don-Sura and Southwest.
8: Central: similar to Western upper Volga.
Some more detailed infos, to exemplify how relatively slight
most
of the differences inside the CEE type are:
Stature: Valdai: 167,4; Vologda-Vjatka:166,5; Don-Sura: 166,3; Southwest: 166,5
CI: Vald: 83; Vologd-V: 82,5; Don-S: 79,6; SW: 81,3
fair haired: Vald: 35%; Vologd-V: 29%; Don-S: 29%; SW: 26%
fair eyed: Vald: 48%; Vologs-V: 38%; Don-S: 50%; SW: 39%
Growth of beard (higher number=less strong): Vald 17; Vologd-V: 19; Don-S: 2; SW: 6
bizygomatic: Vald: 141,5; Vologd-V: 142,2; Don-S: 139,8; SW: 141,2
horizontal profile: Vald: 9; Vologd-V: 10; Don-S: 13; SW: 15
upturned nosebottom: Vald: 21%; Vologd-V: 20%; Don-S: 28%; SW: 25%
concave nose: Vald: 10%; Vologd-V: 4%; Don-S: 5%; SW: 13%
no epicanthus: Vald: 17%; Vologd-V: 18%; Don-S: 29%; SW: 26%